Being in the World
Sometime during the winter of 1972 I remarked to a teenage girl, "To say that something is only in your mind does not at all belittle that thing."  That thing we were talking about was God and the possibility of human faith.  That statement may have been one of the most profound or enlightening things that 21-year-old me ever said to one of my kids (I'll explain that in a bit). A decade later, this onetime teen, now a grown woman, reminded me that I had uttered that pearl of wisdom during a bull session at a local youth coffee house. The implication of her testimonial was that my pithy proclamation had once helped her or a mutual friend through a dark or doubtful time.  At least, I hope so. That thought, that tiny kernel of truth, at one time helped me. But as I wrote those words out just now, the profundity seems highly exaggerated and the enlightenment has dimmed.
In the winter of 1972, I was in the middle of a year-long internship as youth minister for two Lutheran congregations in Greensboro, North Carolina. One of my main duties was to run The Ark, a drop-in youth center in an old, small house at the back of the suburban church's property. This was an era when earnest, mostly white, mainstream churches began "coffee house" ministries to offer a place where disaffected and questioning youth could gather for conversation and music, without the pressure of overt proselytizing. I was well-suited for the job.
The Ark's big night was Saturday, when teens from all over the city–at least from the white side of town–gathered for an evening of more-or-less supervised fun centered around informal music sessions. The space was theirs to occupy. It was not shared with the ladies aid, the church council, or the Sunday school. I fondly remember a painting party when the kids decorated the walls of our three rooms with colorful designs and graffiti. "America caught the clap in Vietnam" raised some concern, but we let it stay up. Besides Saturday nights, the Ark kids and I had Sunday afternoon soccer games; occasional outings like beach and camping trips, movies, the Hunger Hike, an anti-war march in Raleigh; and midweek bull sessions.
The bull sessions were unstructured conversations. We sat on the floor (those were the days) in a circle and talked about all sorts of things. Often the subject was God and faith and religion. Many kids wanted to talk about God, even if only to rail against the lessons they had learned in Sunday School, lessons that didn't measure up to the world they were growing into. Others were quite serious and thoughtful about being Christian. I also liked to talk about these things. In 1972 I should have been finishing up my senior year in college. Instead, I had taken on this internship after my junior year, just one semester after I had changed my major from sociology to theology. I was well-suited for this job.
However, a winter earlier, right after I changed my major, God died for me. I don't remember the exact time and place, but it was sudden, unexpected, and final, the way death is. I never read Nietzsche, but I suspected this is what he meant he wrote God was dead. Empiricism had killed him (or her) in my mind.  It became apparent to me, all at once, that all the things Sunday school taught me to count on could not be reasonably argued to be true. Jesus as a personal Savior? Eternal life in heaven? God listening to all our prayers?  There was no rational proof to back up these doctrines. This was one of the most unsettling times in my life (though there were a few more doozies to come).
God's death was not just a huge inconvenience for a new theology major. It shook me to my foundations. I had been raised a Good German Lutheran. What we believed, I had been taught, mattered more than anything we did. We were justified by grace through faith.  Families, congregations, denominations, even nations throughout history had held together or fallen into deep and rancorous schisms on the basis of how they articulated that faith. And now it seemed like I had no faith. In dying, God had pulled the rug out from under me and sent me tumbling to the hard floor where I scraped my shins and bruised my soul.
I wish I could tell you that God's dramatic and sudden death to me was followed three days later–or three months, three years, or even three decades later–by an equally dramatic resurrection in the form of a revelation or an epiphany that re-confirmed my lost childlike faith.  But nothing of the sort ever happened.  Though later that winter, while on an off-campus walk on a beautiful early springlike day, when it became clear that winter's choke hold was lessening, I was quite abruptly, surprisingly, and fully filled with a sense of calm, of peace. After weeks of mental torment from losing the faith that had been an integral part of my identity, I now clearly saw that I could go on being the same me.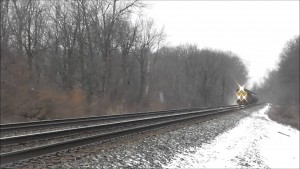 There, along the railroad tracks south of town, I realized that what I believed didn't really matter. If God was real, it was not because of anything that I thought or confessed or proclaimed. If he or she was not real, I was. And I was free to let my thoughts carry me wherever they might go.
Further reflection brought me to the realization that the God I had been taught to worship was a God of mercy and of justice. Even if God was not real, mercy and justice were good things on which to set my mind. The God of the Judeo-Christian tradition may be dead, but that tradition offered glimpses of a moral and compassionate way to be in this world. I resolved to keep my major, to stay Lutheran, to open up my mind, and to see what there was for me to learn and do in this big world of ours. A few months later I was sent off to Greensboro for my internship in youth ministry. I was well-suited for that job.
I don't believe I've ever told anyone the full story of how I experienced God's death. Maybe one or two old friends who happen upon this account will remember a bit of it. In short, I never regained that faith I had as a child. I graduated from Valparaiso University in 1973 as a theology major.  I worked a couple of years as a youth minister in the Detroit suburbs, and even flirted with the idea of going to seminary. However, it soon became clear that the church vocation was not, after all, well-suited for me. So I left church work and went off into the world to see what I could learn and what I could do. I became a musician, another thing for which I was well-suited, though not well enough suited for a full time income. I also became a scholar, earning a PhD in Folklore and American Studies from Indiana University in 1992. In 1999, I began teaching anthropology courses as an adjunct professor in various Chicago-area colleges. I am still a musician. And I am still a good German Lutheran, though one who witnessed God's death and isn't sure what kind of resurrection follows.
There is much to tell, so I decided to start this blog as a way to get me to write down my stories and articulate the ideas, meanings, and connections that have always bubbled non-stop through my ever-active mind. I try not to take my mental ramblings too seriously (that's really hard to do when I'm arguing politics). I try hard to maintain a sense of humility about my beliefs whenever I proclaim them. I can't claim that my jottings here are going to be useful to anyone besides myself, though I do have a vague expectation that my daughters may someday find something to gain in this, their father's exercise of vanity. My intent is to lay out, at long last, a cogent presentation of how I make sense out of being in the world. My observations and interpretations are naturally flavored by the disciplinary perspectives I've occupied through my nearly 65 years: Lutheran theology, folklore, cultural anthropology, American history. My 40 year career as a working folk musician adds another layer of seasoning.
I've recently become active once more in a Lutheran church, and have again begun reading some theology.  I've always been curious about where God went when he died. The answer I gradually found is that she didn't go to heaven, but stayed right here in his/her creation, in this world.
There is much to tell. I hope I am well-suited for the telling.